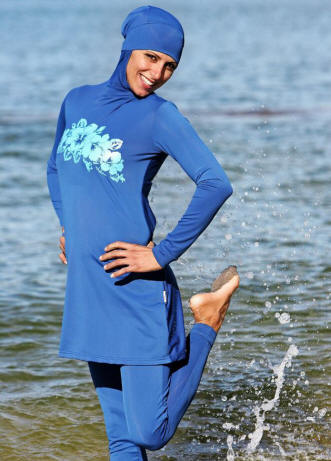 UK: When Nigella Lawson emerged out of the sea on Sydney's Bondi beach dressed in one two years ago, it was greeted with astonishment.

But now burkinis – swimwear originally designed for Islamic women to protect their modesty – are soaring in popularity among British non-Muslims.

Demand is particularly strong among women keen to cover up their curves or protect their skin against the sun.
Burkinis are lightweight outfits made of Lycra and nylon that leave only the hands, feet and face showing. They were originally imported from Turkey and Morocco, but now London-based companies Modestly Active and Modestkini, which have been selling the swimsuits since 2007, are cashing in on the boom.

Ismail Sacranie, sales and marketing director at Modestly Active, said: 'The first few years were a hard struggle but, over the past two years sales have grown between 300 and 400 per cent.'
Modestly Active and Modestkini say between 15 and 20 per cent of their clients are non-Muslim.

Before the suits became available, women had to find other ways of covering up. Kausar Sacranie, chief executive of Modestly Active who designed Nigella's burkini, says that years of family holidays spent wearing clingy leggings and T-shirts in the water prompted her to design an alternative.

She said: 'I wanted something different but I didn't want to look like a Teletubby on the beach.

'I wanted something I was comfortable in and that made me look good. Later, I went on holiday to Dubai and I was swamped with people asking me where I got it.'

She says Nigella's endorsement of the burkini on Bondi in April 2011 was a turning point for her firm.
'After Nigella wore my swimsuit, people became more comfortable with the idea. And a lot of people who are not Muslims wanted something without a hood.'

Umran Ashman, director of Modestkini, said: 'People come to us for a variety of reasons.
'Some are allergic to the sun or are worried about cancer, others are overweight or have lost a lot of weight so their skin is sagging.'

Modestly Active has recently begun marketing triple XL suits, the equivalent of a size 24-26. British women are also buying burkinis from overseas. Californian firm Splashgear says that after the US, the UK and Canada are its two largest markets for burkinis

Source: Mail Online