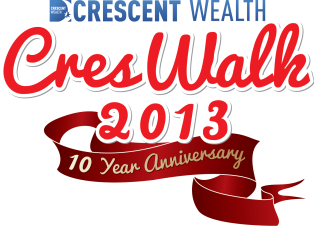 With just days to go before the big day on Sunday 26th, the number of registrations is certain to exceed all expectations in this our 10th year of organizing CresWalk.
Look out for the Islamic College of Brisbane and Australian International Islamic College students in their sports colours challenging each other to the finish, and their parents and teachers coming along to support them on the same route.
Hobnob along the Brisbane River with Imams, senators, members of parliament, councillors and bureaucrats.
Our major sponsor, Crescent Wealth, is sending along a team from Sydney and we look forward to showing them some true Queensland hospitality.
There will be a host of random draw prizes that will include a weekend at the Hilton Apartments in Surfers Paradise, three nights at the Chevon Renaissance, dinners at restaurants, shopping vouchers and other surprises.
A number of activities are planned around the always delicious lunch to cater for all.